If you are looking for a complete TomoChain review and you want to learn more about TOMO, this guide is for you.
we will show you how it works, what we use it for and what the future looks like for the network and its primary asset, TOMO.
I will also look at the use cases and long-term potential of the TOMO tokens
So read this TomoChain review carefully.
What is TomoChain?
TomoChain is a decentralized blockchain project. It aims to solve the scalability issues that many blockchains have.
It does this by increasing TPS (Transactions per Second).
Unfortunately, even major blockchain projects like Ethereum can only process 15 transactions per second. Compare that with Visa or Mastercard, where up to 6,000 transactions per second is doable.
TomoChain aims to solve interoperability issues, and attempts to solve the known scalability issues with the Ethereum blockchain.
Scalability includes network congestion, long wait time for transaction validation, and the high transaction fees that come along with these issues.
Interoperability refers to the ability for Ethereum to link with other blockchains to provide cross chain interaction.
These are crucial because blockchains should work at scale to realize disruptive potential, and they need to have a way to work together. One of the major functions of blockchains is the way they move and record funds between accounts.
TomoChain is seeking to solve the scalability problem through sharding and a stake voting solution. That has led to a TOMO blockchain that provides up to 5,000 transactions per second, 2-second transaction times, and low transaction fees for users.
The development team claims once we achieve sharding, TomoChain can reach 20,000 to 30,000 transactions per second.
TomoChain can be used to build decentralized applications (DApp), and to serve other popular blockchain use cases such as decentralized value transaction.
The consensus mechanism of TomoChain is Proof of Stake Voting (POSV).
TomoChain project began on 1 March 2018. TomoChain raised $8.5M USD for the project through an ICO (Initial Coin Offering) in one day. During this token sale, users could purchase TOMO with Ethereum (ETH) for 0.25 USD per token.
The TomoChain Mainnet
TomoChain released its mainnet in December 2018. After that, they moved to an independent chain, added masternodes and the added Proof-of-Stake Voting (POSV).
The switch to masternodes made TOMO a mintable currency rather than a minable currency.
They use the masternodes to create and verify blocks and they compensate for doing so by minted TOMO. Currently there are 150 masternodes.
The compensation for the first two years will be 250 TOMO per epoch (which is 900 blocks), split between the masternodes based on the number of blocks signed.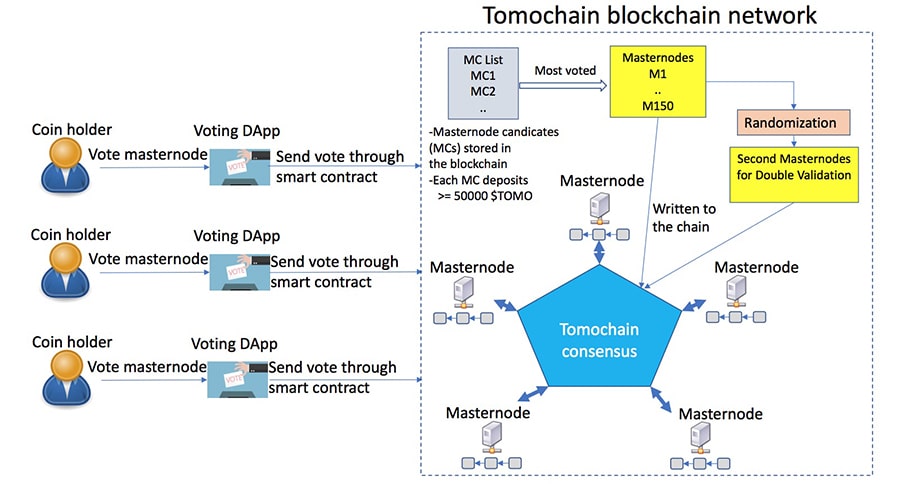 After two years, the block reward will be split between the masternode owner (40%), all those who voted for the masternode (50%) and the TomoChain Foundation (10%).
Over the first eight years, there is a fixed supply of 100 million TOMO and after the first eight years, another 17 million TOMO will be available for block rewards.
The council of masternodes is also able to vote to increase the total supply by up to 1 million TOMO each year.
The TOMO fees are just 1% of those charged for Ethereum transactions, and the TomoChain has 2-second transactions versus 15-second transactions for Ethereum.
Additionally, TomoChain can already reach 2,000 transactions per second and when sharding is introduced that should increase to at least 20,000 transactions per second.
Ethereum only processes 15 transactions per second currently.
How does TomoChain work?
The TomoChain network uses something called a POSV consensus mechanism to secure and run the network. TomoChain uses Staking, unlike Bitcoin that uses miners to reach consensus.
Staking is similar to mining, but it does not need any hardware.
related post: how to stake Tezos and earn money?
All you have to do is staking your TOMO tokens online, and then you receive a reward for securing the TomoChain network.
Everyone can stake TomoChain, but now there are only 150 masternodes to vote in the network. TOMO token holders elect these masternodes. This is the "Voting" part of the mechanism.
Stakeholders of the network secure the network by validating transactions automatically. This ensures total decentralization and a healthy network state.
The more people stake TOMO, the better the network gets.
Therefore, if you own any, you should definitely stake. This is not only for personal gains, but also for increasing the security of the network.
Does TomoChain use Sharding?
Sharding is a popular theory-based application of blockchain technology. Sharding solves the scalability issues.
TomoChain uses sharding in its POSV consensus mechanism to validate transactions in a faster manner. In addition to this, TomoChain uses double validation to ensure higher levels of network security.
TomoChain Team
One of the most important aspects of every blockchain project is the people behind it. The team can either make or break the success of the project.
On the other hand, they should not have too much involvement in the network; otherwise, it is less likely to be truly decentralized. As the result, it acts more as a company than a cryptocurrency vision.
The TomoChain team vary in skillsets and roles. The main core of the team works in the main TomoChain office at 10 Anson Road, International Plaza, Singapore, 079903.
The Founder of TomoChain was Co-Founder and Project Lead of the NEM blockchain, one of the largest cryptocurrencies in the world. If this success is anything to go by, TomoChain may be one worth watching.
There are also two advisors on board; Roger Lim from NEO Global Capital and Thuc Vu, co-founder of Kambria.
Contact TomoChain Team
The TomoChain team consists of thirty members and most of them are located in Singapore.
The project also has offices in Vietnam and Japan.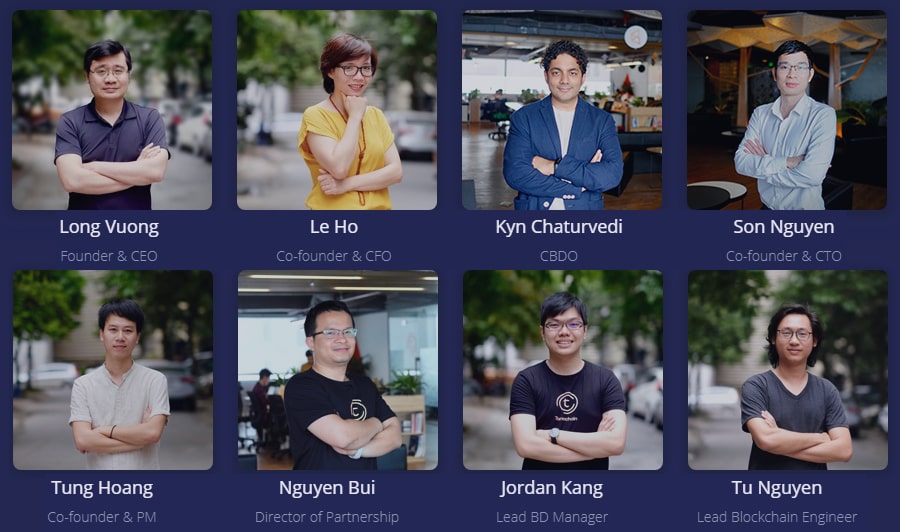 The CEO of TomoChain is Long Vuong. He was previously the project lead of the successful NEM blockchain project.
The second co-founder and CFO of the project is Le Ho.
She was previously Senior Investment Manager at BVIM and a former Director of the Investment Banking Division at HSC Securities Company.
Next is Son Nguyen, the CTO of the project and an experienced and accomplished technical leader, former Director of Engineering, founder of the Blockchain Developer group with more than 800 active members.
Finally, there is Tung Hoang, who is the Product Manager of TOMO Wallet. He is also an experienced Full Stack Developer & Smart Contract Developer.
It is important that you can get in touch with the team working cryptocurrency projects.
Because of discussions about the future of the chain and about potential partnerships to assist with the adoption of the chain. You can use this email to contact TomoChain: admin@tomochain.com
In general, TomoChain team is impressive. They are transparent and do not seem to heavily involved in the network. I conclude that the fraud risk is low, although you should always check everything before investing in any digital asset.
TomoChain Use Cases
Most people know what blockchain is, but they wonder how to use it in day-to-day lives. If I want to answer honestly, it does not have any uses now.
Projects like TomoChain are building the infrastructure for the future.
Nevertheless, we can still look at ways for using TomoChain in the coming years. So, how can we use TomoChain in the future?
They designed TomoChain to facilitate, and fulfil the main blockchain use cases that include processing decentralized actions (Smart Contracts), and facilitating immutable transactions.
It is important to note that these use cases can apply to many different industries, and therefore are extensive.
I believe TomoChain will be useful in many ways, including medical and financial sector, where there is little room for error.
TOMO Token
One of the most common misunderstandings in the cryptocurrency industry is the mislabeling of the network and the corresponding main network token.
To clarify; TomoChain is the name of the network, and TOMO is the name of the token. This token helps to run the network by providing a standard value for the chain.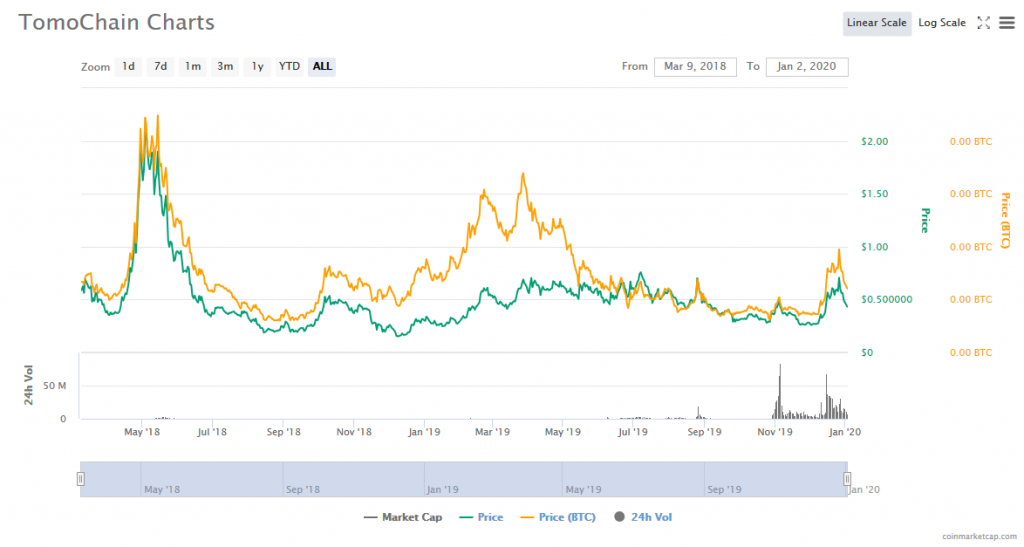 The TOMO token plays the key role within the TomoChain ecosystem. It acts as a requirement for participating in the network both through masternodes and for staking.
Additionally, we use token for Voting about the future of the network. These functions of the TOMO token make it extremely valuable in the network, because it is unlikely to survive without its presence.
This is a great sign for investors and traders as it lowers the risk of getting involved.
They held The TOMO ICO in March 2018, and while they schedule the public sale for a 20-day period, it ended in just 1 day.
Because the team quickly met their hard cap of $8.5 million.
They created TOMO as an ERC-20 token, but transitioned it to a native token on a 1:1 basis when the mainnet went live in December 2018.
They sold tokens at $0.25 during the ICO. When the token was in list and trading on an exchange it was already above $0.60, despite 2018 being such a bad year for cryptocurrency markets.
The market weakness led to a drop over the next month to $0.40 and then the token took off. From early April through May it rallied, remaining above $1 for all of May after hitting an all-time high of $2.30 on April 29, 2018.
The token then declined alongside the broader market for the remainder of 2018, hitting its all-time low of $0.146134 on December 8, 2018.
For those who are looking towards the technical aspects of the TOMO token, you may be wondering if it is an ERC20 or if it has its own blockchain.
TOMO was initially an ERC20 token but they swapped 1:1 to the TomoChain network between 18/12/2018 to 20/12/2018.
The contract address for the TOMO ERC20 token:
0x8b353021189375591723e7384262f45709a3c3dc
However, since the ERC20 token is no longer in use, there is no need to use this contract address.
TOMO Block Explorer
You can access the official TOMO block explorer at scan.tomochain.com. Here, you can check transactions, balances and see the masternodes.
Token Metrics:
Name: TOMO
Max (Total) Supply: 100,000,000
Circulating Supply: 69,266,750
ICO Price: $0.25 USD
TOMO TPS (Transactions Per Second)
One of TomoChain's main USPs is solving the scalability issues that other blockchains have.
It means they can complete more transactions per second (TPS) which ensures greater scalability. Now let us look at the figures and see if they have achieved this claim.
TomoChain claims that the TOMO network can operate at "at least 2K TPS". To put this in perspective, VISA completes around 2K TPS on a centralized system. S
o if this is true and TOMO can run at 2000 TPS, it will be one of the fastest blockchains in the world. Consider that Bitcoin runs at around 5 TPS.
 TOMO Wallets
If you own some TOMO tokens, you need somewhere to store them securely.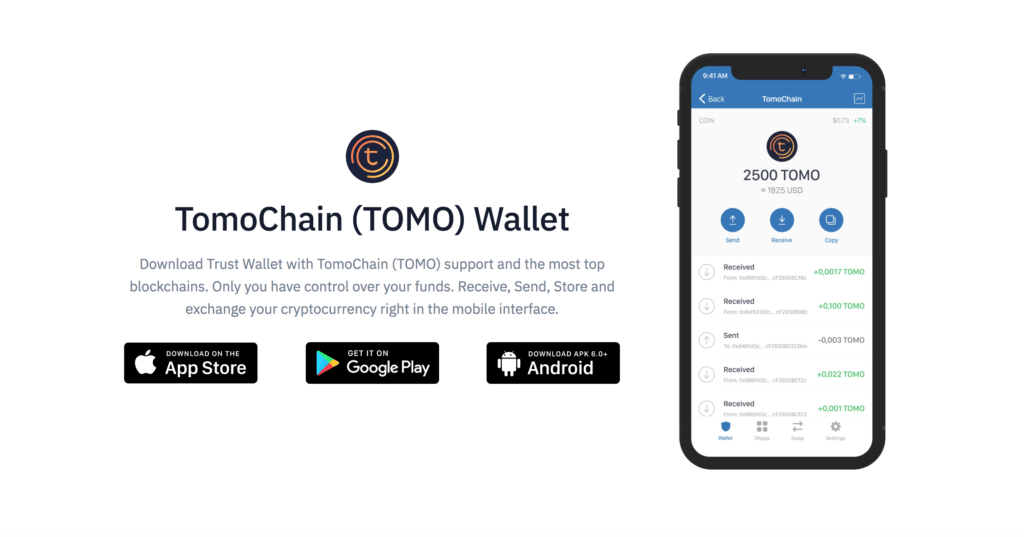 The main things I look for in a good cryptocurrency wallet are security, usability, and having backups. So here the best and most popular TOMO wallets:
As you can see, you can store your TOMO on both Mobile and Desktop as well as with hardware devices to keep your tokens super safe.
Is there a TOMO testnet?
Many cryptocurrencies have something called a "Testnet". Testnet allows you to try the network without having to use real tokens. This way, you can get a grasp of how to do things with no risk.
You can use a testnet to practice using the wallet, voting and other actions on the TOMO network.
To use the TomoChain testnet, visit faucet.testnet.TomoChain.com.
In this testnet, you can generate some testnet tokens and then send them to a testnet TomoChain wallet.
Are there any TOMO Mining Pools?
Mining pools are ways of taking part in a blockchain network without having to own or use the hardware requirements.
TomoChain does not have any mining, therefore they cannot really be called mining pools. TOMO uses Proof of Stake to validate transactions. For this reason, there are not any TomoChain mining pools.
TomoChain Staking
A consensus mechanism called Staking has secured TomoChain as a network. This process involves holding tokens in a staking-compatible wallet and activating the process. By staking TOMO tokens, you can receive a regular reward.
How much do we earn by staking TOMO?
According to Staking Rewards, the Annual ROI for TomoChain (TOMO) tokens is 6.33%.
For example, if you stake 100 TOMO, you would receive around 6.33 TOMO in one year. This gives you a total balance of 106.33 TOMO tokens.
How often do we get rewards for staking TOMO?
They pay out staking rewards for TOMO approximately every 30 minutes. This is great, because it means you do not have to wait for months or even years to receive passive income from your investment.
Now, how can we stake TOMO tokens?
There are two main ways in which you can easily stake your TOMO, one on mobile and one on desktop.
Mobile Staking
To stake TOMO on mobile (IOS, Android and Google Play):
Buy TOMO tokens on Binance or KuCoin (you'll need Bitcoin or Ethereum first, if you don't, you can buy it instantly on Binance with credit cards);
Download the TomoWallet from the App Store or Google Play Store;
Create a free account;
Transfer your TOMO tokens to your TomoWallet receiving address;
Follow the on-screen instructions to stake your TOMO.
Online Tomo Staking
You can stake your TOMO by using TomoMaster, the web-based application built by TomoChain. This application makes it easy for users to start with staking their TOMO tokens.
To stake TOMO online:
Go to master.TomoChain.com and create an account;
Send your TOMO to your new TomoChain wallet;
Use the instructions provided to stake your TOMO.
Tomochain Masternodes
There is another way to earn a passive income from securing the TomoChain network too. This way is with something called masternodes.
A masternode is a computer that verifies transactions on the network and they get a percentage of TOMO tokens for doing this.
TomoChain has 150 masternodes that secure the network. Those people who stake TOMO tokens elect these.
The rewards (ROI) of running a TomoChain masternode is around 7.64%.
The requirements to run a TomoChain masternode are:
50,000 TOMO Tokens,
Dedicated Static IP,
99.9% Uptime.
Now you are probably wondering how you can start running a TomoChain masternode.
It is actually simple if you use the right tools. Before you start, register a free account at Digital Ocean.
Once you have set up your Digital Ocean account, go and read this detailed guide by TomoChain on how to set up your masternode.
more About TomoChain Masternodes
Masternodes are an important part of the TomoChain ecosystem. Simply put, they are servers contributing computing power to the network to sign blocks. The masternode receives TOMO as a reward for performing this service.
TomoChain uses a maximum of 150 masternodes. These 150 masternodes use POSV to reach consensus. Running a TomoChain masternode has a number of requirements:
1. To become a masternode candidate you must first deposit 50,000 TOMO. Candidates can resign, but the TOMO remains locked for 1,296,000 blocks (30 days) after the resignation.
2. Once you have become a candidate, the next step to become a masternode is to be in the top 150 voted candidates in an epoch.
3. If chosen as a masternode you receive TOMO rewards in proportion to the number of signed blocks. Masternodes can also receive fees from the TOMOX decentralized exchange.
Owning a masternode not only guarantees rewards from the TomoChain, but it is also the best way to support the network.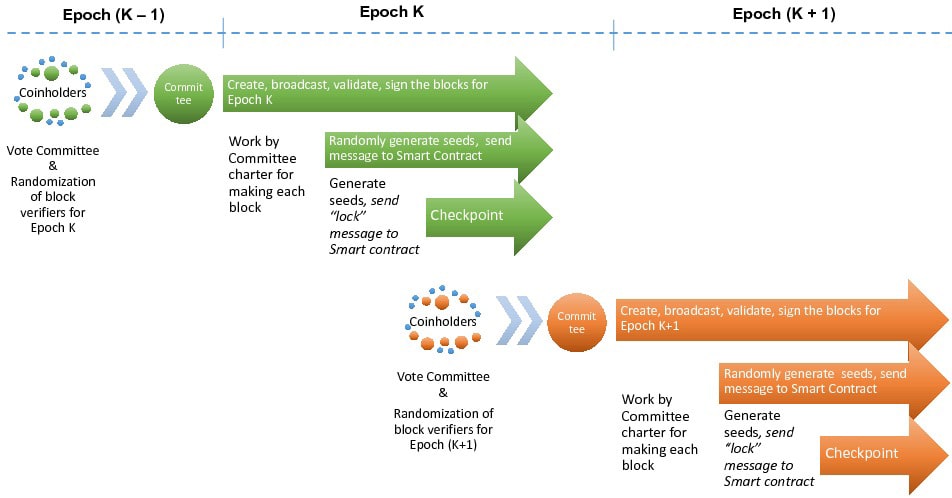 Proof-of-Stake Voting (POSV) feature is unique to TomoChain and sets the project apart. It not only allows the blockchain to function as EVM-compatible, but also allows for the nearly instant transaction times, and for the entire masternode architecture.
With POSV, the stakeholders can vote for the 150 masternodes they want to participate in block creation. Therefore, if the masternodes do not represent the interests of the stakeholders, even though the block creation aspect is centralized, they can easily vote them out.
Moreover, after two years, the stakeholders can receive block rewards if the masternode they voted for wins and becomes a validating node.
TomoChain Governance
Governance is a big deal for decentralized networks. There are many different approaches to make it work.
Some have claimed that a masternode network is the best way to govern a blockchain network.
TomoChain not only includes a network of masternodes, but it also allows the stakeholders to vote for the masternodes and elect those they wish to become validating nodes.
This goes counter to the popular Proof-of-Work consensus mechanism that rewards those who have the rawest computing power, leading to centralized mining cartels and monopolies.
The decentralized nature of the masternode architecture allows everyone to benefit from being part of the network, not just those who are able to afford powerful hardware.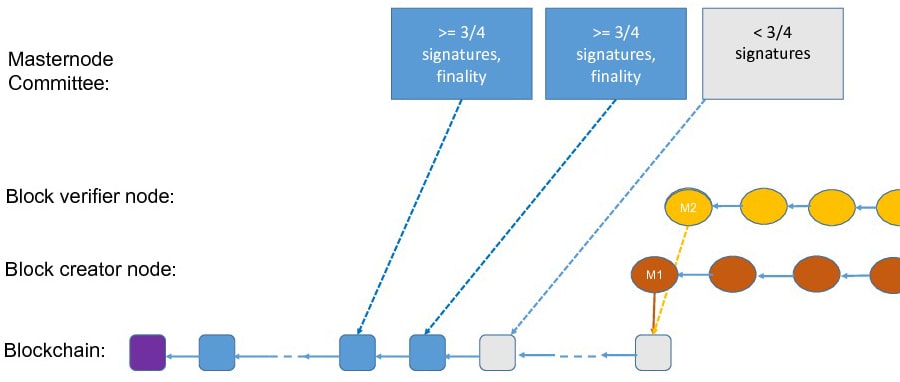 Moreover, even though there are only 150 masternodes as validators, it does not mean these 150 have supreme power. Quite the opposite, because people can vote them out every 900 epochs and there is always a tight race for the winning masternode spots.
The server should activity and stability, to remain a part of the masternode network. If the masternode is inactive, or constantly dropping off the network, it is soon be replaced by a more stable and reliable masternode.
The TomoChain network evolves quickly, and moves fast and fluid, just like the blockchain itself.
In the PoW system, miners invest in hardware and are separate from the network, because they can switch mining to any PoW coin they like.
In the TomoChain network, they invest masternodes in the tokens. This makes them an inseparable part of the network.
TomoChain Voting
Let us take a deeper look at voting on the TomoChain network; what do you need and how can you go about doing it?
All you need to vote on TomoChain is some TOMO tokens and access to the internet.
TomoChain built a governance DApp called TomoMaster to run the voting of masternodes.
They have done a good job and have made it easy for the user.
Use the following instructions to vote on the TomoChain network:
Get some TOMO tokens on Binance;
Download TomoWallet and create an account;
Transfer your TOMO tokens from Binance to your TomoWallet;
Login to master.TomoChain.com with TomoWallet;
Vote for the masternode you want to elect.
Here is what voting on TomoChain looks like: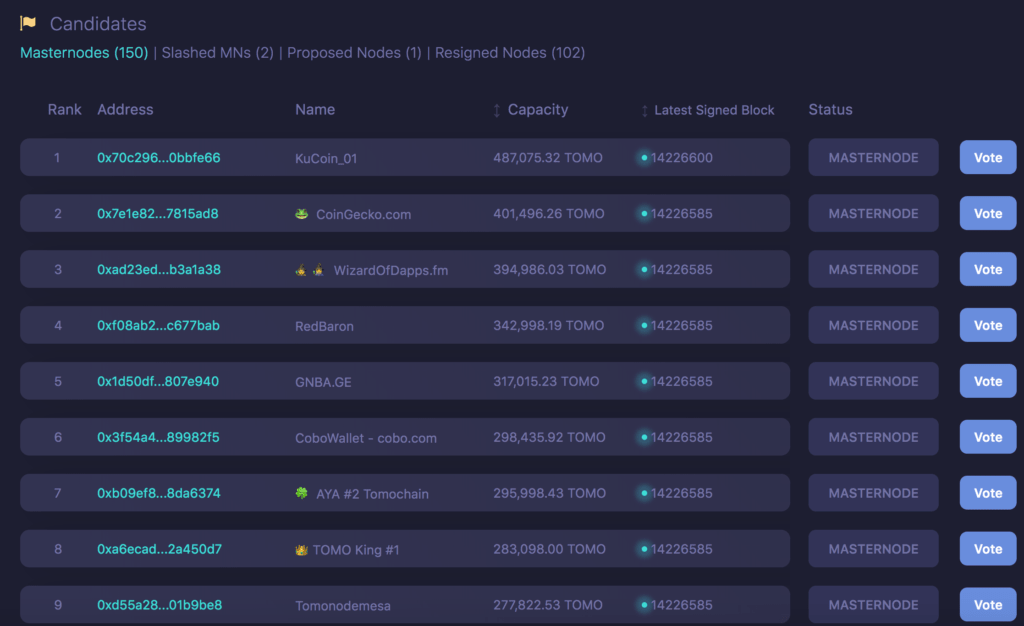 You should see a name for each masternode, some of these are exchanges like "Kucoin_01" that you see in the image.
TomoChain Partnerships
Many blockchain projects collaborate with other companies. They do this to strengthen their position within the industry and get access to exclusive products and user bases.
Here is a list of the known TomoChain partners:
Binance Chain
BitOrb
NOIA Network
AIS
Constant
Terra
Morpheus Labs
Lition
WisePass
Japan Content Token
Georgian National Blockchain Agency
Axie Infinity
You can verify these partners here.
Communities
As with any crypto token, TomoChain has a wide array of online locations where you can discuss the project with other investors, enthusiasts and traders. These communities can also be a great way of getting in touch with the project's team.
They are extremely active in these groups. You often can expect to take part in an AMA (Ask Me Anything) in the chats. In these AMAs, you can ask any questions from the team. Here are
TomoChain's communities:
TomoChain Development
The amount of work a team is doing on their protocol and technology speaks a lot about the state of that project.
One of the best ways to decide that is looking their public code repositories. This can give you a direct indication of code commits and hence development.
I went to TomoChain GitHub to get a better look at their coding activity. In the below image we have the code commits to the top three most active pinned repositories.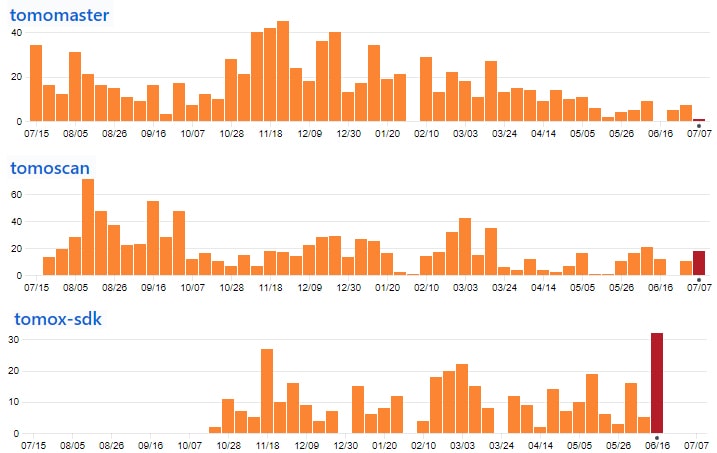 As you can see, the team has been very active pushing out code. It is also worth noting that there are a further 66 other repositories in their GitHub with varying levels of activity.
This is more activity than most other projects that are at a similar stage in their development. Perhaps this rapid pace of development will make sense when viewed in context of the broader project roadmap.
TomoChain Roadmap
TomoChain has a comprehensive roadmap page that gives their users a running update on the progress of particular development milestones.
They also pull in the latest GitHub commits that we have been talking about it. Looking below, you can see the list of completed milestones on the left as well as those that are in progress on the right.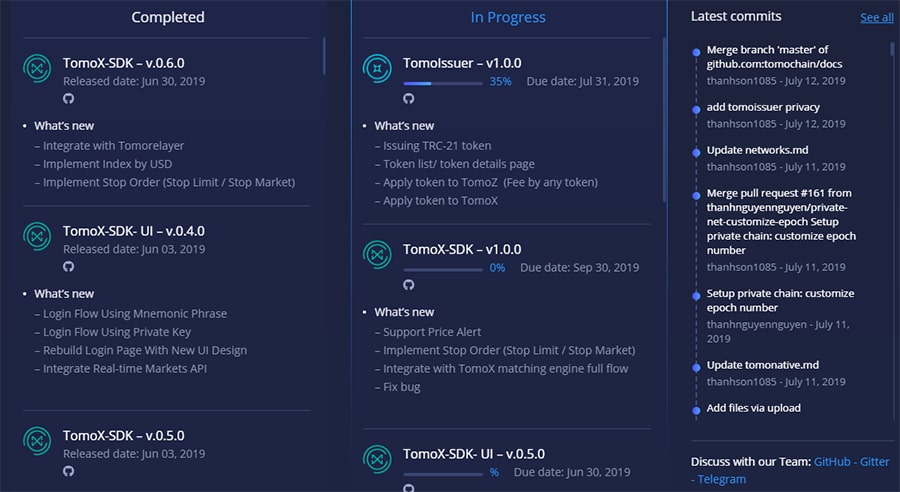 Indeed this is just a snapshot and you can scroll down on their roadmap page to see exactly how much they have completed and are currently working on.
Some of the most important things that the team is currently working on include the following:
Tomox V0.1: The team is working on this decentralized exchange protocol.
This will be the first alpha release and will feature a full-flow decentralized orderbook and matching engine execution. It will also be integrating with TomoDex and TomoRelayer.
This is currently at 80% completion and is due for release in the next few weeks.
Tomomaster v2.0.0: They also plan to release an update to their graphical UI for the masternode voting / governance.
They have not been started this yet as progress is still at 0%.
TomoX SDK v1.0.0: This Software Development kit will allow developers to build on top of their decentralised exchange. They have not started this yet.
TomoIssuer v1.0.0: This is the "Fee by any tokens" Registration DApp.
Some of the newest features include issuing TRC-21 tokens, apply to token list and apply token to TomoZ.
So, as you can see quite a bit to look forward to over the coming year from the TomoChain developers. If you want to keep abreast with their latest updates, follow their official blog.
Is TomoChain a good investment?
You should always investigate before investing in any cryptocurrency, and understand the risks involved.
Start with reading this TomoChain review thoroughly.
In my opinion, TomoChain has a demand within the market and a large array of token use cases that are vital for the network's success.
In addition, the passive income from staking TOMO or running a masternode makes it a very attractive investment for many.
If you want to invest in TomoChain, you can buy some Bitcoin on Binance to buy some TOMO tokens.
Conclusion
TomoChain has had a successful run so far, and the mainnet launch was both successful and impressive. The team seems to have a clear vision and direction.
The recovery in the value of the TOMO token is also impressive when you consider that the 2019 rally so far has been primarily a Bitcoin rally, and many altcoins have struggled to keep up.
That recovery has also come without TOMO listed on any of the top exchanges other than KuCoin.
The real success for this blockchain will be when they implement sharding. If they can accomplish it quickly, they can easily put themselves in the forefront of the blockchain revolution.